Celebrating Wisconsin, The Best way.
This Mornings Temp in Iowa. -5!
Greetings From WISCONSIN! Beer Capitol of America. (For the moment...anyway.) We are currently in the
balmy
state of Wisconsin! Well,
balmy
by Iowa standards currently.
COLD , SNOW, AND WIND!
It appears this area of the mid-west is under the Deep Freeze. This has not stopped Cheryl from running thought. For the better part of the week, she has braved the elements: cold, wind, snow, and many other miserable things... to try to stay on that Marathon Running Track. Until all three elements hit at the same time!
Bitter Wind Chills!
She took a day off. Because the snow was deep, the temps were SUB-zero, and the Wind was dangerously strong and blow-ie. The weather channel advised AGAINST being outside at all that day. I could barely stand being out in it for longer than a moment without protective gear on. Wind-chills really cut to the bone and cause exposed parts of the body to shrivel up. Not the best to run in at all.
Iowa in the Deep Freeze.
Snow Blindness.
We prepare for the New Year Dash.
And so it is that Cheryl is going to run in the New Year Dash. The temps are supposed to dip below -15! Perhaps things will warm up a bit by gun time, but we will be staying in the nice warm hotel watching the start line as it starts. ( We learned this from last year.)
Last Year's New Year's Day Dash.
Speaking of last year! This is my last post of 2017.... so lets look back at some of the cool and adventurous things we accomplished this year. ( and try to forget the bad stuff, which there was much and too many to mention in this "short"blog posting.
Cheryl Shows off her Medal, Notice the sun and Lack of snow.
Last year, Cheryl ran this very race in much friendlier weather. We thought it would set the tone for the over all year. And, from a weather perspective, that was true.
And February...
Shorts in January!
The spring was more wet than snowy. Battling the rain seemed to be the most pressing thing we had to deal with. Cheryl was even able to run in shorts during the month of January!
Hiro Shows off his cone.
AND his lovely Scar...
Along with Marathon training, Comes the Usual "January Surprise!" For 2017, it was Hiro getting into a scrap with some outdoor ruffian cat. His little experience showed him that there are dangerous things out in the world, and wearing a cone for a month is not a fun thing.
One of the BIG things that needs to be remembered ( and forgotten) about 2017.... Is the BOSTON MARATHON! That is right! Cheryl ran the Boston Marathon.... mostly. I should spin it as: She finished! The BOSTON MARATHON! Got the
shirt,
the
jacket,
and
the
medal.
And was able to tick off another world marathon majors city off the list. So...Mission accomplished!
Showing off the Spoils.
The True SURVIVOR
I suppose I could clarify the details, but better to just look back and read the lengthy blog postings back in April. Let's sum it up as the Boston dream quickly spiraled into a bad dream...but stayed out of "nightmare" territory....just barely. It proves that with everything going well leading up to race day does not mean that the race itself will be equally as awesome. A dark cloud over what should have been an otherwise sunny and perfect day. But isn't that how life is most of the time...?
After Boston, Cheryl's running schedule seemed to shudder a bit. She ran Mad Town and won an award. (Proving that she was still capable of running a decent race when things go well.
She ran the Firecracker 10K with the three Elvises. Proving that she can break through any wall that gets in her way.
But then she got hurt towards the end of July. This caused her to have to take a serous break from running. Time to find other things to occupy ourselves with.
Enter: The Farmer's Market! Over several weeks, Cheryl slowly built up a small arsenal of felt items to sell there. Saving us from bankruptcy and starvation!
Cheryl's folks came to visit.... some time after Boston. It's always good to see the folks.
My Best glimpse of the Total Solar Eclipse.
In August, a TOTAL SOLAR ECLIPSE happened. And I missed it. Even though I was less than 100 miles from the Shadow line, I did manage to capture a "sliver of cookie" from between the clouds. I was very excited about that. I was lucky that I even saw that much. Many people had cloudy skies and were not able to see it despite being in the center of the shadow path. Perhaps one day, I will see a true total solar eclipse from the shadow. We shall see.
As Summer ended and fall began, Cheryl began to run again. By this time, however, she was forced to miss all of her Fall races and her Quad Cities Marathon. The only other race she was able to run was the Turkey Trot in Des Moines. Unfortunately, there was no medal, only a coffee mug to remember the race by.
Cheryl enjoys her Mug.
Stockings! Lots of Dogs Stockings....
And finally Stockings pretty much took over the last two months of 2017. They always do. I think this year was fairly average in total sales. It may have seemed a little down because we never allowed ourselves to fall behind in production. Cheryl's numerous specific dog breed designs also seemed to cut down on the custom order requests. One of the few things that was a positive in having all that time on our hands during the Fall.
Speaking of Dogs! Guess what year.
And that is pretty much the highlights. Well, the ones worth remembering. I conveniently left out the trouble with Subie, the unemployment issue, the weeks of slow sales, no running, and minor apartment disasters. But let's just say that I'm looking forward to 2018.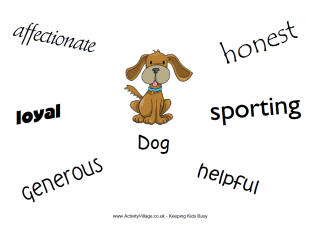 All these qualities and MORE!
It is the year of the DOG! And that is pretty darn Cool! I was born in the year of the Dog... and I love dogs. Dogs have many
Excellent
qualities that people
Often
overlook. Dogs are faithful, loyal, hardworking, team players. They support whoever is in charge and make the unit better. I have high hopes during this time. Cheryl's sign is a Tiger. And Dogs and Tigers work well together.
So sayonara 2017! Let's bring in that New year and see what will happen. Or as Mr. Burns says: Release the Hounds! Woof! Woof!